So many of us live in Wisconsin's Northwoods or Michigan's Upper Peninsula because we love what surrounds us every day. We love the clear water, the clean air, and the lush forests. WXPR's environmental reporting as part of our expanded series, The Stream, focuses on the natural world around us. The Stream is now about more than just water: it brings you stories of efforts to conserve our wild lands and lakes, scientific studies of animal and plant life, and potential threats to our environment. Hear The Stream on Thursdays on WXPR and access episodes any time online.
Harmony, Not Conflict, As Housing Development Planned Near Protected Old-Growth Forest
A walk in Rhinelander's Holmboe Conifer Forest requires a stop every few steps to hear or see a new amphibian.
On a recent stroll, Ted Anchor of the Northwoods Land Trust pointed out the trill of a gray tree frog, the leap of an American toad, and several salamander species under rocks and logs.
"[Here's] another salamander species on the property. We found blue-spotted [salamanders] so far, and this is a small red-backed salamander who is very active," said Anchor, cradling the small creature in his hand. "He's winging around like a fish."
This haven is created by clean water, pure air, and a canopy of old-growth hemlocks darkening the sky above.
"Sound changes when you get into it. Temperature changes. The light [changes]," Anchor said. "It's a very different world. It's an abrupt change."
The 32-acre forest embedded into the city of Rhinelander is owned by the Northwoods Land Trust, a conservation group protecting outstanding natural landscapes. It's been designated and dedicated as a State Natural Area. It preserves an old-growth forest Kari Kirschbaum calls "really rare" on the modern Northwoods landscape.
"It's all of these unique communities in this little pocket, but also so accessible to the people of Rhinelander," said Kirschbaum, another Northwoods Land Trust employee. "I think it really has a small but very loyal following. It's kind of a treasured asset to the community. It's really important to us that we continue to be able to protect it, but we also continue to be able to make it accessible to people."
Just steps away, Dwight Webb walked through the squat, one-story former nursing home he owns.
"This will be a restaurant, a bar and grill. We have the kitchen. This will be the dining room. We're busting out one of those [walls]. We're going to have outdoor seating," Webb said, gesturing toward the areas he sees in the future.
Webb's building next to Holmboe Conifer Forest is currently used as student housing.
But he has a big vision for the future of the property.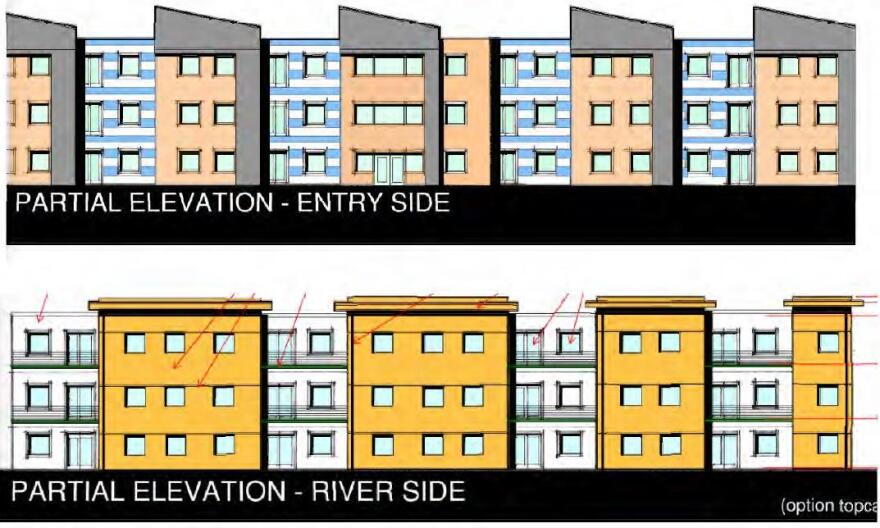 In addition to the restaurant, a pair of three-story apartment buildings will be erected, along with 30 townhomes, all within view of the protected forest and Pelican River.
"The purpose of that is to look down the Pelican River. You can see straight east quite a ways. That was my purpose, I wanted to be able to be in an apartment, look out your window, and see water, which is one of the highlights of northern Wisconsin, is being on water. We're close to town, close to the dog park, water view, restaurant on site, so basically a little community here," Webb said.
Webb said employers have told him tales of people wanting to join their company who are pinched by the lack of housing in Rhinelander.
It's part of the motivation for the development.
Webb anticipates construction beginning by the end of summer, with the first apartments available for rent at Riverview Estates next spring.
"Rhinelander is a beautiful city naturally, just our landscape," he said. "To compliment that with a beautiful downtown, a vibrant community, and nice housing, I think it all fits together."
Major development directly adjacent to a preserved natural area could be a recipe for conflict between builders and environmentalists.
For one thing, more residents with easy access to Holmboe could lead to overuse or abuse of the forest.
But in this story, tension is instead replaced by collaboration, said Kari Kirschbaum of the Land Trust.
"We both intend to work together to make it a good situation both for the residents and for the long-term protection of the preserve," she said.
The two groups have met, and the developers have pledged to have residents sign agreements regarding respectful use of the forest. Riverview Estates will provide parking spots reserved for forest users. There's even talk of the developers helping to start a "Friends of Holmboe" group to look after the forest, said Ted Anchor.
"That's really the ideal situation because we need people that love Holmboe with their eyes on it so that we can protect it," he said. "We're very fortunate that the adjacent landowner, the developer is willing to work with us on that."
That landowner, Dwight Webb, said working with conservationists was an easy move.
After all, he's spent plenty of time in Holmboe Conifer Forest himself.
"Being a resident here and somebody who uses that facility, [I respect] the importance of restoring and keeping old-growth forests. It's beautiful. If you've never gone there, you've got to go," he said. "Whoever is listening to this, you've got to go in there."
The future Riverview Estates is projected to create 30 to 40 jobs.
In addition to the apartments and townhomes, it will feature a restaurant, café, and internet gaming center.