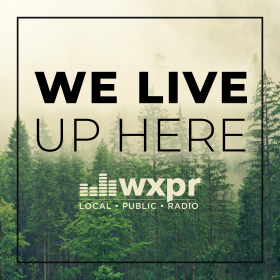 WXPR's We Live Up Here series is a home for stories that focus on the people, history, and culture that make the Northwoods of Wisconsin and the Upper Peninsula of Michigan such a unique place to live.
There's no shortage of beautiful places to get outside in the Northwoods.But how you can enjoy those places and what to expect from them changes based on their designation.As part of WXPR's We Live Up Here series, Katie Thoresen introduces us to State Natural Areas and a man being honored for dedicating his life to preserving them.

Waterskiing is one of the top summertime sports for residents and visitors alike in the Northwoods.But for some the love gliding across the water goes beyond laps around the lake.

The Northwoods is full of unique places visits and fun things to do.And it never hurts to do them with a little positivity.That's the message two Northwoods women are trying to share on social media are they travel around the area.

Homesteading can bring to mind images of pioneers trying to survive on the American frontier. But it's a lifestyle that hasn't disappeared from the Northwoods.

Darren Thompson's talent has made him sought after, including by the music director from the Wisconsin Chamber Orchestra.

Wabeno is a small town in Forest County with a big focus on the arts.For more than 40 years now, the Wabeno Area Players have entertained crowds with their performances.

Skijoring is a growing sport in the Northwoods.If you're not familiar with the it, picture cross-country skiing where the skier is led by one or two dogs with a long rope connecting them.A local woman is making her name nationally known in the sport.

The City of God is a recently released 90-minute documentary that explores how one Haitian community approaches development. It was produced by Rhinelander's own Nate Sheppard.

Sub-zero temperatures are not for everyone, but for one Northwoods adventure-seeker, the colder the better.