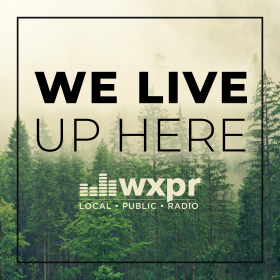 WXPR's We Live Up Here series is a home for stories that focus on the people, history, and culture that make the Northwoods of Wisconsin and the Upper Peninsula of Michigan such a unique place to live.
A close look at the 2023 Meno Keno Ma Ga Wen Powwow

A group of Korean-Americans are departing Forest County Friday after spending the week learning and sharing with the Forest County Potawatomi Community.The 4th annual cultural exchange gives each group the chance to share parts of their culture while making friends.

Sloyd is an education system developed in Finland in 1865 and is still widely used in Scandinavian countries.At its core, it teaches children character development through woodworking.A new school teaching the Sloyd Experience recently opened in Iron County, Wisconsin.As part of WXPR's We Live Up Here Series, Katie Thoresen takes us to one of the classes and introduces us to the man bringing the skill set to the Northwoods.

An outdoor art installation in Land O'Lakes invites people to immerse themselves in music, visual arts, and nature.The sound garden created by director and composer JG Everest has returned for another year.As part of WXPR's We Live Up Here, Katie Thoresen explains how this community art project encourages everyone to be an artist.

A Forest County Potawatomi man will be defending his Wisconsin Middleweight Boxing championship title tomorrow in Green Bay.As part of WXPR's We Live Up Here series, Katie Thoresen spoke with Mark Daniels Jr. about how the sport has shaped who he is.

Millions of birds are flying back north after a long winter.The spring migration also draws people seeking to catch a glimpse of the birds before some continue even further north for the breeding season.

Tucked among downtown Rhinelander's supper clubs and coffee shops is a gaming store. It's where people gather to play games like Dungeons and Dragons, Magic: The Gathering and Warhammer. The store has such a devoted following that it was recently hand-selected as one of just three Wisconsin locations to host an exclusive competition for a new card game.

Minocqua is bringing a legendary snowman back to life – and it's not Frosty. It's Snowmy Kromer, a 40-foot-tall snowman that has graced Northwoods winters with its presence for decades.

When COVID cast a cloud of gloom over everyday life, one Northwoods photographer took to Facebook to spread joy. Bob Kovar shared a photo and accompanying positive thought each day on social media throughout the pandemic. Now he's publishing a collection of those photos and thoughts in a book.

There's no shortage of beautiful places to get outside in the Northwoods.But how you can enjoy those places and what to expect from them changes based on their designation.As part of WXPR's We Live Up Here series, Katie Thoresen introduces us to State Natural Areas and a man being honored for dedicating his life to preserving them.