In addition to the local news, WXPR Public Radio also likes to find stories that are outside the general news cycle... Listen below to stories about history, people, culture, art, and the environment in the Northwoods that go a little deeper than a traditional news story allows us to do. Here are all of the series we include in this podcast: Curious North, We Live Up Here, A Northwoods Moment in History, Field Notes, and Wildlife Matters.These features are also available as a podcast by searching "WXPR Local Features" wherever you get your podcasts.
Two Strategies, One Goal: Bringing Back Walleye Waters In The Northwoods
Perhaps more than any other fish, northern Wisconsin identifies with the walleye.
But walleye populations in many local lakes have been struggling.
Some are even at risk of disappearing completely, as the populations are no longer naturally reproducing.
Fisheries biologists have had to get creative to try to address the problem, and they're doing it in different ways in different parts of the Northwoods.
The Minocqua chain is a prime example.
"The walleye population in the entire chain was very, very dismal," said Mike Vogelsang, the DNR's Northern Region Fisheries Supervisor.
In 2015, walleye densities on the chain, which includes Minocqua, Kawaguesaga, and Tomahawk lakes, were dangerously low, and the population wasn't reproducing.
"I don't think we have a good idea why, initially, natural reproduction started failing," said Mark Luehring, an inland fisheries biologist with the Great Lakes Indian Fish and Wildlife Commission (GLIFWC).
Even though Vogelsang, Luehring, and their partners didn't know what caused the walleye population to stop reproduction, they had an idea of what could turn it around. That year, the state and its partners put a five-year moratorium on walleye harvest on the chain.
Anglers couldn't take walleye, and tribal spearfishermen agreed not to exercise their treaty rights on the lakes. All the while, the DNR and tribal partners would continue stocking fish in the lakes.
"The walleye population has responded tremendously. We took it from basically no walleye fishing at all to almost four fish per acre," Vogelsang said.
Five years ago, the lakes had about one fish per acre. Surveys this spring showed Minocqua Lake now has 3.78 adult walleye per acre, while Kawaguesaga is at 2.61 per acre. Tomahawk wasn't surveyed.
That's significant progress. But the population still isn't supporting itself.
"Not much natural reproduction has come back yet, but adult densities are trending in the right direction," Luehring said.
The five-year harvest ban expires this year, and it would be logical for sport fishermen, resort owners, and tribal spearers to be eager to hit the lakes again.
But the DNR and its partners are asking for an extra year of no harvest.
In a surprise to Vogelsang, public opinion has been largely supportive. Surveys showed about 90 percent of respondents supported the extension to finish the walleye recovery.
"Anglers and resorts, businesses, et cetera, they've been very patient through this whole process," he said. "I truly believe they want to see this project succeed as well."
The proposed one-year extension still needs to be approved by the state Natural Resources Board. Vogelsang acknowledged if the extension isn't successful in meeting population goals, the DNR could ask for another extension through 2021.
Eighty miles east of Minocqua, a different fisheries biologist is undertaking walleye recovery in a completely different way.
Greg Matzke is the fisheries biologist for Forest and Florence counties, where the number of good walleye lakes is much lower than in Oneida and Vilas counties. But, thanks in part to his work, that number is slowly climbing.
"Any time you're trying to manipulate Mother Nature, it almost never works, so I didn't really expect it to work, but I thought, hey, let's give it a shot," Matzke said.
Despite his own skepticism, over the last decade, Matzke's projects, called biomanipulation, indeed have worked.
Lake Metonga near Crandon is a good example. The historically productive walleye lake had crashed in the 2000s before biologists went to work.
"Lake Metonga, we stopped stocking it in 2012. [But now,] it naturally reproduces year in and year out. It's at an all-time high for walleye density the last five, six years. Now it's a true walleye lake," Matzke said.
Matzke and colleagues, working closely with the nearby Sokaogon Chippewa Community, found success
with removing a fish species believed to hurt walleye populations. Using fyke nets, workers took 19,000 black bullheads out of Lake Metonga, leading to its astounding resurgence.
Patten Lake in central Florence County was having a similar issue. Matzke guided a similar solution, overseeing a full flip of the walleye fishery there.
"[At the beginning,] f I could have, I would have stopped all harvest of walleyes [on Patten Lake] because the population was about to be extirpated," he said. "Now, after seeing all this recruitment, people
need to harvest as many as they possibly can out of this lake so that they don't become overabundant."
The project involved removing 6,000 bullhead from the lake.
"Now, we're sitting where we have basically remarkably high walleye reproduction," Matzke said. "The last two years, reproduction of walleyes on Patten Lake has been the highest in the entire Ceded Territory, the northern third of Wisconsin."
Matzke credits a public passionate about walleye in giving him leeway to undertake some of these projects. His latest project on Roberts Lake between Crandon and Wabeno is perhaps his most ambitious.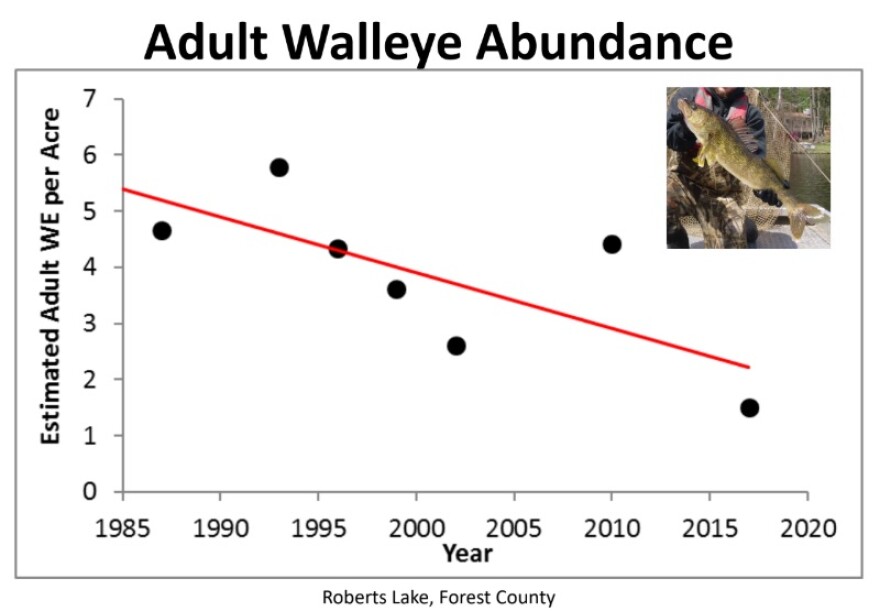 He's removing the populations of two popular fish species, largemouth bass and northern pike, in an attempt to bring back walleye.
At the same time, Matzke cautions that not every lake is suited to support walleye. He also says his projects would never be realistic on waterbodies the size of the
Minocqua chain, which is too big for large-scale species removal.
But Matzke is hoping to keep picking off some lakes one by one, bringing back their historic walleye fishery.
"We're basically reclaiming these walleye lakes that have been lost for decades," he said. "if we've got four or five good walleye lakes here now, when I leave, after I put 25 or 30 years in here, I hope there's ten or twelve."
_