In addition to the local news, WXPR Public Radio also likes to find stories that are outside the general news cycle... Listen below to stories about history, people, culture, art, and the environment in the Northwoods that go a little deeper than a traditional news story allows us to do. Here are all of the series we include in this podcast: Curious North, We Live Up Here, A Northwoods Moment in History, Field Notes, and Wildlife Matters.These features are also available as a podcast by searching "WXPR Local Features" wherever you get your podcasts.
We Answer Your Questions About PFAS, Water Quality, And Water Quantity In Rhinelander
People in Rhinelander and across the Northwoods want to know their water is clean, drinkable, and safe.
But that expectation has been muddied in the past year, with the discovery of elevated levels of per- and polyfluoroalkyl substances (PFAS) in Rhinelander's municipal water supply.
The finding of PFAS, which has been linked to risk cancer, thyroid disease, and higher cholesterol, led Rhinelander to shut down two of its five city wells.
That's left some people confused about where their water is coming from, how much is available, and if it's safe.
In this week's "The Stream," we're answering listener questions on the complicated topic.
Q: What are the locations of the active wells, particularly regarding their proximity to Wells 7 and 8?
A: First, let's start with a short reminder.
Wells 7 and 8, which are both located on the grounds of the Rhinelander-Oneida County Airport, are shut down after finding high levels of PFAS compounds.
Rhinelander now has three active wells, Wells 4, 5, and 6. Wells 1, 2, and 3 have been out of commission for years.
According to the city's Wellhead Protection Plan, Wells 4 and 5 are near each other on South Oneida Avenue, about midway between Bessey's Meat Market and Golden Harvest Market. Well 6 is on the city's west side, near the intersection of Lois and Phillip streets. You can see them on this map, which is taken from the Wellhead Protection Plan.
Q: What is the likelihood that the contamination of either Wells 7 or 8 could transmit to the currently active wells?
A: We asked Bart Sexton, a project manager with Sand Creek Consultants, an environmental firm in Rhinelander. He's also the former Oneida County Solid Waste Director. Sexton studied the Wellhead Protection Plan, including a concept called the Zone of Contribution, in forming his answer.
"My estimation is that Wells 4 and 5 would have little or no chance of being contaminated from the same source, and Well 6 would only have a very, very slight chance, because it's just about the same elevation as the groundwater being pulled in from Wells 7 and 8," Sexton said.
Like any other water, groundwater, which wells tap into under the surface, flows downhill.
For contamination to reach Wells 4 and 5, it would have to both cross the Wisconsin River and flow uphill. That's highly unlikely.
Well 6 has a slightly higher chance of drawing in contaminated water from the same source as Wells 7 and 8. But that chance is still tiny, Sexton said.
"It's probably about a two-mile distance there and it's what we refer to as side gradient," he said.
That is, it would have to flow across a hill, instead of flowing downhill.
Chances are the source contaminating Wells 7 and 8 isn't harming any other Rhinelander wells.
Q: What steps is the state taking to pinpoint the source of the contamination of Wells 7 and 8?
A: This is a question with good timing.
Last Monday, the DNR sent a letter to the Rhinelander-Oneida County Airport, naming it a "responsible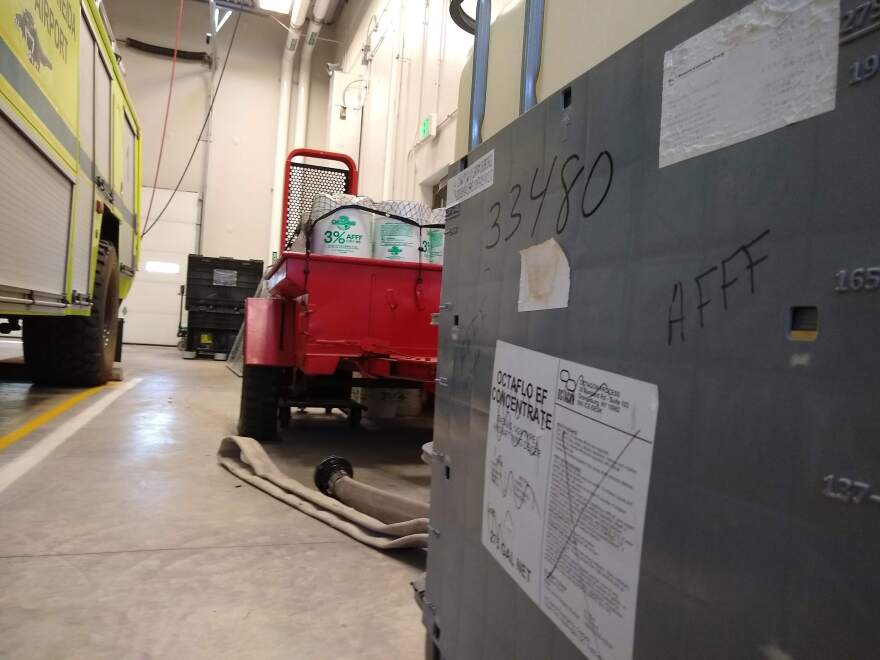 party" for PFAS contamination in Wells 7 and 8.
The DNR ordered the airport to start an 11-step investigation and reporting process, with potential clean-up needed if the DNR's suspicion is proven correct.
Chris Saari, the DNR's Northern Region Program Manager for the Remediation and Redevelopment Program, pointed to fire-fighting foam, which is stored at the airport by federal mandate and is a known source of PFAS compounds.
"In terms of proximity to the wells and in terms of a known at least storage, and potentially past use, of these fire-fighting foams, they would be the most likely, or a likely, close-by source," Saari said.
But Airport Director Matthew Leitner is not so sure.
"When they came back and said, 'Well, we've identified you as a responsible party,' yeah, it was surprising," Leitner said.
He's confused as to how the DNR drew its "responsible party" conclusion simply on evidence that fire-fighting foam is stored on the property. He said he's followed DNR recommendations and Federal Aviation Administration (FAA) mandates for testing and storing the foam.
"What we've been doing is what, again, they expect us to do. As far as changing anything, I don't know what we can change," Leitner said. "The containers don't leak. The truck doesn't leak. We don't discharge it. We've been adhering to all of the best practices as outlined."
The foam has never been used in an active incident.
"We don't use it regularly. We use it extremely sparingly," Leitner said in September. "It's not something that we play with, and it's not something that we would ever play with."
Leitner pledged transparency and cooperation with the DNR, and Saari left open the possibility that the airport could be cleared from suspicion.
"If it turns out that they find out that they are not the source, based on that information, they could submit to us some kind of a liability clarification or a case-closure request. Something to say that, essentially, hey, it's not us," Saari said.
As a first step, the airport must hire an environmental consultant by early January.
Q: Have you looked at the Oneida County Landfill as a possible originating source of whatever contamination there is? And, where does the aquifer travel to/from the known sources (wells) that have contamination?
A: We went back to Sexton, the former Oneida County Solid Waste Director, for guidance on this question.
The landfill is west of Wells 7 and 8 at the airport, and Sexton provided a groundwater contour map from the landfill area. It shows the groundwater flows west from the landfill (that is, away from the wells and the airport). Sexton said that's been consistent since monitoring wells were installed at the landfill in 1977.
Sexton also provided a mark-up he created of a Google Earth map showing the landfill in relation to the airport and wells.
Given the flow direction of the groundwater from the landfill, Sexton believes it's unlikely to be a source of the city's water contamination.
Q: A year ago, Rhinelander had five operational wells. With Wells 7 and 8 now out of commission, where does that leave the city in terms of meeting our needs for a clean supply of water?
A: On average, Rhinelander uses 1.7 million gallons of water daily, according the Wellhead Protection Plan.
Wells 7 and 8 together only supplied a relatively small amount of that, about 23 percent, according to Wastewater Foreman Jim Gossage.
But what about if we have a winter of extreme cold, requiring most or all city homes and businesses to keep water running to avoid freezing pipes?
"Looking back to the numbers from 2014, when there was a citywide run order, the maximum pumped over a day was about 2.5 million (gallons)," Gossage said at a Common Council meeting on Dec. 9. "Currently, with these three wells, we can handle that capacity of 2.5 million."
In the case of a fire requiring a lot of water, Gossage admitted "it's possible" that capacity could be challenged. Rhinelander Mayor Chris Frederickson said the possibility of bringing Wells 7 and 8 back online in such an emergency had been discussed with the DNR.
What questions do you have about water, water quality, and water resources in the Northwoods? Whether they relate to PFAS or not, let's get them answered. Submit them below.
_