WXPR's We Live Up Here series is a home for stories that focus on the people, history, and culture that make the Northwoods of Wisconsin and the Upper Peninsula of Michigan such a unique place to live.
The History Of Stormy Kromer Hats
If you say the name, "Stormy Kromer," most people in the northwoods will know that you are referring to the iconic wool cap with earflaps that dates back to the early 1900s. What you may not know is that the hat is made in Ironwood, Michigan by Jacquart Fabric Products, a company that even has Rhinelander connections.
In front of the Jacquart Fabric Products' manufacturing plant is a 10-foot high replica of the iconic Kromer cap, which today is covered by a light dusting of snow. I grew up in the U.P., and I have fond memories of my grandfather sporting a black Kromer each winter. It is these types of family memories that make the Kromer cap an iconic brand. But how the Kromer caps came to be made in Ironwood is a story over 60 years in the making.
Company CEO, Bob Jacquart, starting sewing with his father in the family basement. Bob's dad was a full-time firefighter who worked a 24-hour shift and then had two days off and time for other activities. Beginning in about 1958, he used these two days off to do upholstery work and other odd sewing jobs.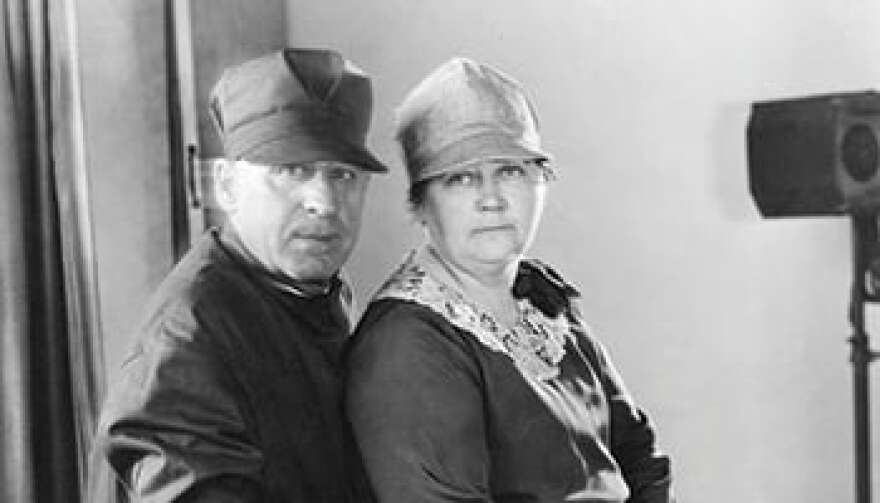 In the early 1970s, Bob came back home to Ironwood and decided to work with his dad. Working together, the company started to grow, but the company was still a long way from making Stormy Kromer hats.
By the 1980s, Bob had visions of expanding the business from doing specific jobs, like making boat covers or upholstery work, to production. This was, however, a difficult time to get into the business because almost all the sewing factories started to move out of the U.S., including the Munsingwear factory in Ironwood.
Bob found that he could make a niche for his company by doing the "odd stuff," like gun cases or motorcycle backrests. These types of products were not as attractive to overseas factories.
One of their best contracts was making dog beds, which they made for 29 years for Drs. Fosters and Smith out of Rhinelander.
By 2001, the Jacquart Company was an established factory with 100 employees known to do all types of sewing manufacturing. Onto that backdrop comes a fortuitous lunch date, during which a local business owner told Bob that the Kromer Company had stopped making caps.
Jokingly, Bob replied, "Get me the number and I will buy the company."
As it turned out it, he did buy the Milwaukee-based company. Bob thought that it would be cool to make something he and his family wore, and he thought it would be a good product to fill production gaps. They started making the hats but then one day Bob bumped into a local elderly woman who made him realize that Kromers are more than just a cap. She asked Bob, with pride, if Kromer caps were really made in their hometown.
She then reached in her purse and showed Bob a picture of what looked like a pet grave marker. She told bob that it was his husband's hat burial on Isle Royale. Her husband's fishing buddies got permission from the Park Service to bury his Kromer hat on the island.
It was at that point that Bob realized that he might have more than a woolen cap. Not only do these hats often conjure up strong memories, but the company has a colorful past. In the early 1900s, Stormy Kromer was an amateur baseball player and railroad engineer. He would often lose his hat on the job so he brought has wife his baseball cap and had her fashion it into a hat that is not much different than the one made today. Soon all of his friends on the railroad wanted a hat and he formed a small business.
A century later, the Jacquarts have not turned back, as now the Kromer line, including women and infant hats, now make up 60% of the company's business. But what makes Bob especially proud, is that his two daughters, Gina and KJ, came back to Ironwood to work in the company. Bob recalls, with pride, the words of his eldest daughter Gina, who is now the co-CEO. She told her dad that should wanted to come back to Ironwood to work in the company to continue his legacy of employing local people.
Bob, Gina and KJ are committed to keeping the plant in Ironwood. They are also committed to collecting more Kromer hat stories. On the day of my visit, Bob told me about a recent email he received.
He got a message from widow, who still had her husband's favorite Kromer cap. She was wondering if the company could size-down the hat so she could wear it.
Although Bob doesn't do much sewing anymore, the story so moved him that he did some of the work on the hat. When finished, he plans to deliver the hat himself.
Tours of the factory are provided Monday through Friday at 1:30. Not only do people get a chance to learn about the factory and the colorful Stormy Kromer history, but many come with a story to share.