In addition to the local news, WXPR Public Radio also likes to find stories that are outside the general news cycle... Listen below to stories about history, people, culture, art, and the environment in the Northwoods that go a little deeper than a traditional news story allows us to do. Here are all of the series we include in this podcast: Curious North, We Live Up Here, A Northwoods Moment in History, Field Notes, and Wildlife Matters.These features are also available as a podcast by searching "WXPR Local Features" wherever you get your podcasts.
A Langlade County Legacy: Kretz Lumber
When Joseph and Myrtle Kretz established Kretz Lumber in 1929, it was just a small sawmill. Today the company just south of Antigo is an employee-owned global company that has expanded into other areas including forest management, education, and now a fine craftsman line, which sells directly to small commercial woodworkers along with hobbyists.
The roof of an old dairy barn in a sea of metal buildings is the centerpiece of the Kretz Lumber Mill as it has been for over nine decades. The converted dairy barn is where logs are sawn into lumber, just as it has been since the beginning. The company still bears the Kretz name, but the family has not been directly involved for almost two decades. Current company president Troy Brown's history with the company goes back 1980s.
"I started working in the mill piling lumber in 1986. Worked my way through school in accounting, and in 1990 I came back here full time. Started as an accounting clerk and kept moving my way through the system."
Brown has now been president for 17 years. Before President Dan Kretz stepped down, however, he created the structure for an employee-owned company, or ESOP.
"It got to be around the year 2000 and it got to a place where he wanted to retire in upcoming years that it might be a good time to sell the business to the employees. At that time, we completed the whole purchase with the employees buying the business from Dan through an ESOP."
When the company does well the employees are compensated. And they have been doing well. Today, Kretz harvests timber mostly from small landowners from central Wisconsin all the way into the U.P. They keep the hardwood but other products, like pulpwood, are shipped to paper mills. They saw the hardwood into lumber, which is mostly maple, and they have 16 dry kilns that get the wood down to the proper moisture.
"Kiln dried lumber goes into many products. We sell to flooring companies, cabinet manufacturers, molding millwork companies, and furniture manufacturers."
Brown describes how a new feature of the mill, "Fine Craftsman Lumber," got started.
"I get a lot of inquiries through our Kretz lumber web site looking for smaller volumes, less than a truck load. We were always wholesale here. I was like, I think we can put enough of an infrastructure together to be able to service people that want and need lumber but all they want is 20, 30, 40, or 100 board feet."
Fine Craftsman Coordinator, Jessica Becker, describes what the craftsman line offers.
"We sell high quality American hardwood. We specialize in hard maple just like Kretz but we bring in some other things that don't grow in our region like Walnut, which does not grow up here."
Becker also provides services to the woodworker, like woodworking tips, a blog, and videos through their web site. Although most of their lumber is shipped, for those of us who live up here there is a cost-saving advantage.
"The advantage of being within driving distance is that you don't have to pay the cost of shipping. Shipping lumber is expensive."
According to Becker, one of the advantages of working at Kretz is that all their products come from sustainably managed forests. That is the responsibility of the 7 foresters including Dennis Fincher. I spoke with Fincher in a log cabin on the edge of a forest that the foresters use for education.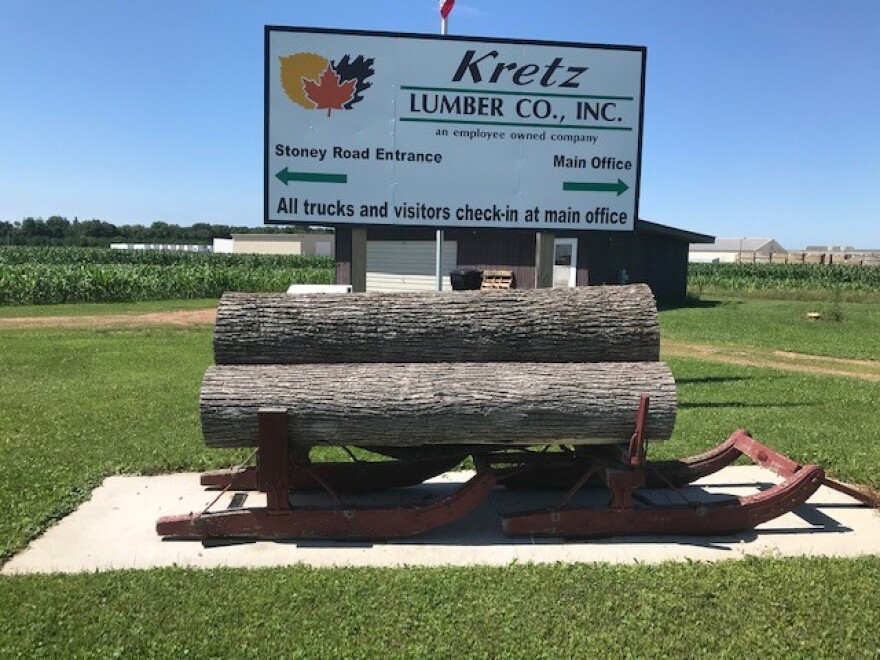 "This is the woods. We have a trout stream going through and we have a bunch of different stations. That is what we do for education."
In a typical year, hundreds of school kids and scouts come to the forest to learn about sustainable forestry. They also have a field day when they demonstrate their methods of forest management to their landowners. For Fincher, the best part of his job, which he has been doing for over 30 years, is working with homeowners for the healthy management of their forest.
"To me it is doing the right thing in the forest. Making it healthy, number one, and then trying to reach the concerns of what the homeowner wants to do. Their concerns might be roads, aesthetics, wildlife, economics, rotation, timing, food plots, natural areas, tree retention, and on in on. And you don't know that unless you meet with the landowner and find out. Most of the time landowners don't own their woods to make money off the trees."
Instead they often want a forest that is healthy and creates a good habitat for wildlife. Because Fincher has been in this business for such a long time, he has the benefit of seeing the fruits of his labor.
"I have been around long enough to have cut the same forest 4 times, and the quality gets better each time.
It's that same commitment to quality, with some inventiveness and creativity mixed in, that has kept Kretz Lumber going for more than 90 years.