WXPR's We Live Up Here series is a home for stories that focus on the people, history, and culture that make the Northwoods of Wisconsin and the Upper Peninsula of Michigan such a unique place to live.
Funerals During The Pandemic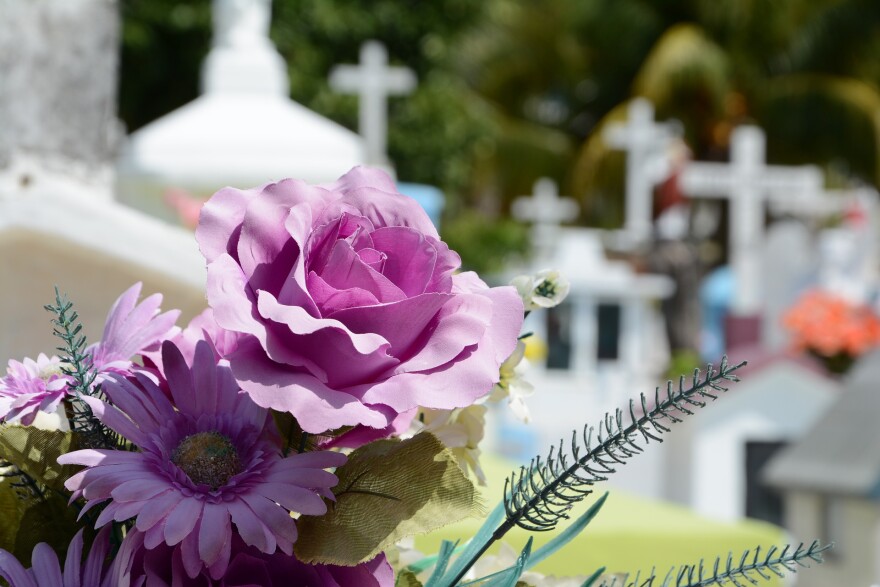 If you live in the Northwoods, you know there are still many family-run funeral homes. Funeral home directors, along with the entire funeral industry, have made changes as a result of the pandemic. But small community funeral directors often have an extra burden.
In 1912 Bruce Carlson's great grandfather arrived in Rhinelander. He was a cabinet maker and carpenter and he opened a furniture store. Shortly thereafter, he started the Carlson Funeral Home, which Bruce Carlson now directs https://www.carlsonfh.com/.
"Five generations and almost a 110 years later we are still here, within a block from where we started."
These five generations of funeral home directors have seen a change from funerals taking place at home where family members were more involved in the preparation of the body, to most of the arrangements being done by funeral home professionals. Those changes in funerals are really a product of the 20th century, says Emory University Professor of Religion Gary Laderman.
"Pre-civil war there is no funeral industry. There is no embalming. No undertakers except maybe in bigger cities. It is all family community-based and certainly religious-based."
Laderman (https://garyladerman.com/) is the author of Rest in Peace: A Cultural History of Death and the Funeral Home in Twentieth-Century America. He suggests that there was an American cultural shift where people wanted to have professionals and experts take care of the most urgent matters in our lives. This resulted in the rise in importance of the medical and funeral industry.
"From the early 1900s throughout the middle of the 20th century our relationship with death and how we understand the dead is pretty much filtered through that industry."
Over the past year, the funeral industry has had to pivot again and make significant changes as a result of the restrictions brought about by COVID-19. Some families have decided to wait to have a service until after the pandemic is over, and others have gone ahead but with far fewer people attending. In Rhinelander, Carlson notes that they have found ways to accommodate people so services can take place safely.
"The things that we have had to do is people use one entrance for coming in and another for exiting. Making sure that they are all social distancing and wearing masks. We have had to have a supply of pens that we had to clean between services. People have asked if we Zoom, Facebook or YouTube the funerals, and we have done quite a bit of that."
A great advantage of a funeral home like the Carlson's that serves a small community, is that in many cases family members know Bruce Carlson personally. But there is also a disadvantage to such close relationships.
"I regularly meet now with people I have known now for my entire life or with their children who I graduated with or went to school with. It is nice because we all know each other that well, and it is comfortable to them knowing that their loved one is being cared for by someone they have known their whole life, but on the flip side is that they are all my family. It is like losing a member of your family every time."
How do you deal with that?
"The way my dad, grandad and great grand dad told me to. You choose to do this, you do it to the best of your ability. Go home and love your own family, meet the dog waging his tail who is happy to see you regardless what went on during the day. Yeah, but it is hard."
As tough as it is, Carlson gets satisfaction in helping people during what may be the worst day in their life.
"It is an honor that those people think enough of us that in the most difficult time in their life they trust us not only to take care of their loved one and put that person in our care but also trust enough to care for them and carry out what they want to have done."
A quote from Mark Twain seems to sum up the family-run small town funeral home. "Let us live so that when we come to die even the undertaker will be sorry."
Carlson also reminds us that our society and the funeral industry made it through disease and large-scale death events before, like WWII and the AIDS crisis. He says in his reassuring voice that we will make through this one too.