Food Insecurity Rates Up in Northern Wisconsin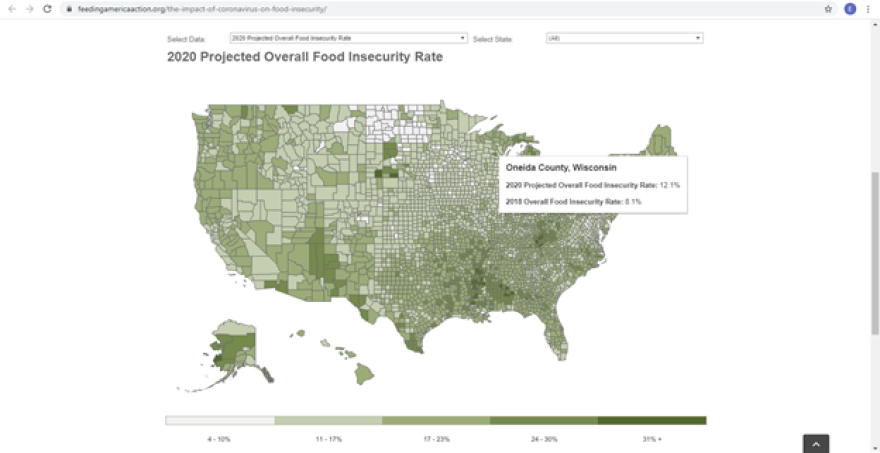 Before the coronavirus pandemic swept across the country, food insecurity in the United States was lower than it had been in years.
That's not the case anymore.
Feeding America, a nationwide network of food pantries, reported rising rates of food insecurity across the country, including in Wisconsin.
In Oneida County the rate is up about 4 percentage points since 2018.
That's an increase reflected in other counties across Northern Wisconsin and the Upper Peninsula of Michigan as well, with counties like Forest and Iron counties experiencing higher increases of around 5 percent.
These numbers translate to greater demands at local food banks.
Guy Hansen, the executive director of the Rhinelander Area Food Pantry, said many customers were relying on extra unemployment benefits from federal and state governments.
"A lot of people were depending on the unemployment benefits they would get and the $600 extra payments and that's gone," Hansen said.
As those payments dwindle, more people are turning to the pantry, which is on track to deliver more than a million pounds of food this year.
The Rhinelander Area Food Pantry isn't the only food bank experiencing an uptick in customers.
Ruby's Pantry in Rhinelander gives customers two laundry baskets full of food and supplies for a donation of $20.
Volunteer Coordinator Tracey Barnes says Ruby's Pantry is also serving more people this year because of the pandemic.
"With unemployment rates increasing and winter setting in, we see people of all kinds of different backgrounds, even people from the Upper Peninsula of Michigan. It's just amazing how far people come from to receive these shares," Barnes said.
Ruby's Pantry recently received a $25,000 grant from Kohl's to continue distributing food and managing expenses.
Both pantries are currently distributing food via a drive-thru to limit possible exposure to COVID-19. Both are also in need of more volunteers.