Did you know that a chipmunk can throw its voice? Or that Wisconsin has a venomous mammal? What about the answer to the question: can porcupines throw their quills?Every Monday on WXPR at 7:45 a.m. and 5:45 p.m., the Masked Biologist answers questions just like these about living here in the Northwoods.You can keep track of Wildlife Matters and all of WXPR's local features on the WXPR Local Features podcast, wherever you get your podcasts.
Reflections on a Successful, and Educational, Bear Harvest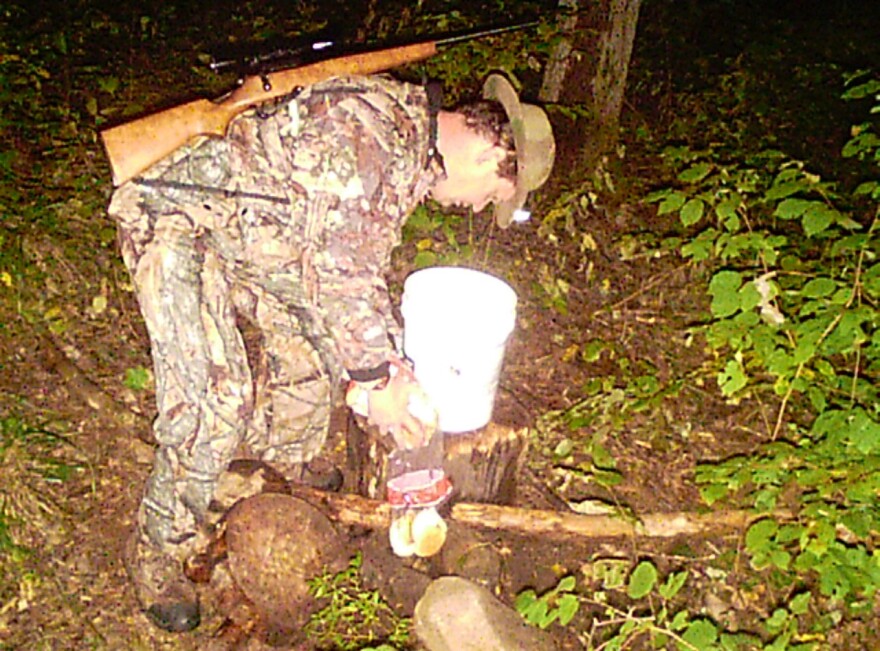 Bear hunting season closes Tuesday. And for the past week, bear hunting has been open only to those using hounds. It's an approach that tends to bring out strong emotions in people…who are either devoted or opposed to hound hunting.
In today's Wildlife Matters, DNR Wildlife Biologist Jeremy Holtz shares his first experiences…hunting bear both ways.
When I drew a harvest tag for the 2014 bear season, I had little idea how it would turn out. I started baiting mid-summer in three locations, all on public land. It didn't take long for bears to begin visiting my baits. I had cameras on two sites, and although a bear might occasionally check the bait during daylight hours, most were coming in at night. By the time the bear season opened, only one bait had bear activity. For two weeks I was in the bear midnight snack business. I would put some tasty treats in a buried hollow log and cover it up with a lid and a heavy rock. Bears would come in between 8 p.m. and 2 a.m., open the container and gobble everything up. I hunted several mornings and evenings, but no bears slipped up and came in while I was there.
As a Wildlife Biologist, I can't honestly hunt without associating it with work. Hunting over bait gave me an appreciation for picking a spot, operating trail cameras, and selecting kinds of bait to use. Once on the hunt, though, I had a hard time sitting for hours staring at the big rock on top of my bait. This was an exercise in patience, silence, and scent control, and I wasn't sure if I was doing it right. As hours turned to days turned to weeks, I was getting little satisfaction from the hunt. It was time to weigh my options. Should I change baits, or change locations? Should I even continue to hunt over bait? Maybe it was time to change strategies altogether.
There are two main bear hunting strategies in Wisconsin—hunting with the aid of dogs or without. Before the season even opened, I had decided that hound hunting might be a possibility. I knew a little about hound hunting, but had never actually seen dogs working an active bear. I contacted a local hound hunter, Jeff Roth, and explained the situation. I was not having much (or any) luck, and was considering hound hunting. This would not only give me a chance to try another method of bear hunting, but would help me as a biologist become better at my job. I would get to see and understand more about this sport that I know is very popular in the Northwoods. Hunters use hounds to pursue bear, bobcat, raccoon, coyote, and now even wolf in Wisconsin. A hound hunting experience could provide valuable education and insight. Jeff discussed it with the group and we agreed on an arrangement that would allow me to tag along and hopefully give me a chance not only to learn more about bear hunting but to have an opportunity to attempt to harvest one.
We went out the following Saturday morning. The group had already checked baits and cameras, and knew which bear they would have me hunt. They put the dogs to work, and the chase was on. The dogs worked at treeing the bear, but this bear preferred to stay on the move. This meant I would have to move in on the ground and intercept the path of the bear, and the dogs, in order to attempt a shot. One of the group members, Ryan, was basically my handler, and he put me in position and told me where and when to take my shot. I harvested my bear within an hour of the start of the hunt. In stark contrast to hunting over bait, I experienced a range of positive emotions during this hunt. It was exciting, intense, and overall it felt more like hunting should be to me, as someone who prefers not to hunt over bait.
I had heard a lot of stories about hound hunters, but unfortunately in my line of work, you tend to only hear about the worst—not just hound hunters, but hunters in general, ATV riders, fishermen, you name it. What I took away from this hunt was an education as well as a bear. The group I went with genuinely impressed me. They were technologically savvy, using sophisticated electronics for communication and tracking the dogs. They are very athletic, making me acutely aware of just how old, overweight, and out of shape I am. They are skilled woodsmen who know the area they are hunting extremely well. Overall, hunting with hounds is more than a pastime, hobby, or sport. It is a way of life, and you don't just do it, you live it. These guys knew I was out there not only as an avid hunter but as a local wildlife biologist, and they provided me with a rewarding experience that I am proud to share with others about how I harvested my first bear.