Northwoods Chambers of Commerce Awarded $117k in JEM Grants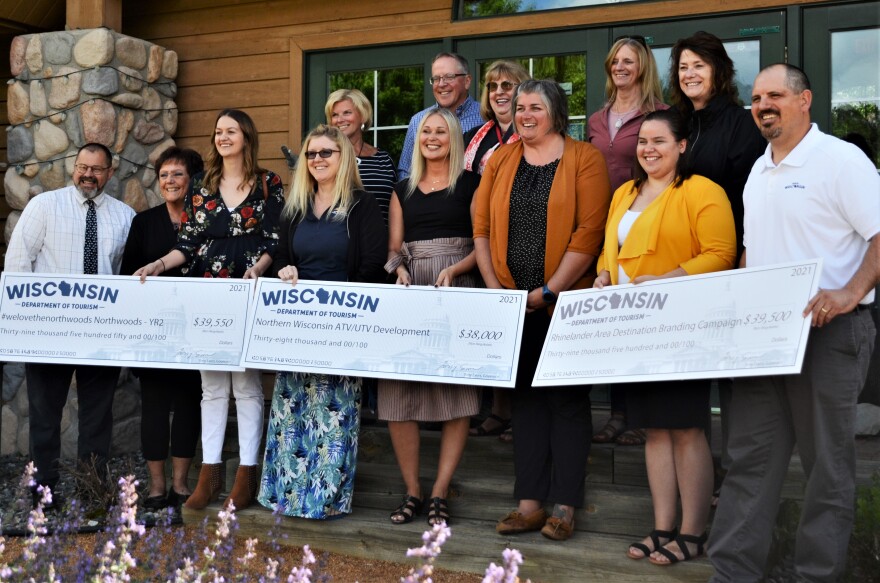 Tourism in the Northwoods last year was a mixed bag.
Many areas saw steady or even an increase in people visiting the region and staying in hotels, lodges, and other accommodations.
But that didn't always translate to money spent in communities, according to the Wisconsin Department of Tourism Regional Tourism Specialist Jeff Anderson.
"People were still in our Northwoods communities for a variety of reasons but there weren't as many ways to spend dollars. We weren't able to see that economic impact," said Anderson. "The numbers in terms of total impact varied from county to county and areas throughout the state, but ultimately we saw that negative impact because again businesses were limited in hours or the ability to be open to customers so our visitors couldn't spend their dollars."
Anderson says that's not the case so far this year. He says bookings for the first quarter of this year and now into the summer are through the roof.
As WXPR previously reported, the Northwoods saw visitors last year from parts of the country it typically hasn't seen in the past.
The Let's Minocqua Chamber of Commerce Executive Director said part of it was marketing campaigns in Minneapolis and parts of the south paying off.
The Rhinelander-Oneida County Airport Director said people were flying in from places in the Southwest and Atlanta.
Anderson says getting those people here is biggest challenge. He believes once they experience the Northwoods, they'll keep coming back.
"For some, we're an unexpected destination, but once they discover us, they find we have exactly what they're looking for. Our work right now has been to reach out to those markets and those younger audiences that might not have made Wisconsin their traditional destination or their destination of choice but invite them to experience and discover the unexpected in Wisconsin and know that once they experience that, they're likely to come back and experience it again," said Anderson.
To help with those marketing campaigns, Anderson presented three checks for Joint Effort Marketing grants to Chambers of Commerce directors yesterday.
Chambers in Forest, Iron, Lincoln, Langlade, Oneida, and Price Counties got more than $117,000 dollars to promote the region.
Two of the three grants awarded yesterday went to groups of chambers of commerce.
The "We Love the Northwoods of Wisconsin" Campaign got nearly $40,000. That's with chambers from Forest, Iron, Lincoln, Langlade, Oneida, and Price counties.
The "Northern Wisconsin ATV/UTV Traveler Development" project got $38,000.
The Antigo/Langlade County Chamber of Commerce is partnering with Rhinelander, Minocqua, Three Lakes, Merrill, Tomahawk, and Forest County for that one.
The Rhinelander Area Chamber of Commerce also got a $39,550 grant for its destination rebranding campaign.
In total, the Department of Tourism awarded $1,130,000 in JEM grants statewide.