Skijoring to success: Northwoods woman looks to defend national title in the sport she loves
As Niina Baum pulls out her skis, ropes, and harnesses from the large silver trailer hitched to her truck, it's hard to tell who is more excited to hit the trails, her or the dogs.
It's a slightly overcast day with the air temp around five degrees when Baum and her dogs Molly and Mämmi get ready to skijor at trail head at Northwood Golf Course in Rhinelander.
A pleasant day, as she describes it, and warm enough that she can brings her hounds rather her huskies.
"With the sprint racing, you're going to see a lot more hound-type dogs instead of the huskies. You'll still see a lot of huskies, but you're also going to start seeing a lot of greyhound and pointer crosses which I think always surprises a lot of people," said Baum. "They think, 'Oh they have no fur. They're not sled dogs.' But they actually are really fast and really strong and they're some of the top breeds for competitive racing."
Skijoring is a growing sport in the Northwoods. If you're not familiar with the it, picture cross-country skiing where the skier is led by one or two dogs with a long rope connecting them.
Baum has been involved in the sport for 20 years, starting with sled dog racing when she was just six years old.
She grew up on a farm near Park Falls. After her older sister got injured horseback riding, her parents wanted to them to pick a safer sport.
"We had heard about a sled dog race in Park Falls, which is near where I grew up, so we just went to go watch it. Just thought it was really cool. My sister and I fell in love with it. We thought it was just the neatest thing," said Baum.
The sisters were hooked and got their first husky shortly after.
Though in hindsight, the sport maybe wasn't the safest alternative to horseback riding.
"We fly at like 20 miles per hour, which is really fun," said Baum. "If your dogs listen that's nice. If they don't listen, I've ended up in trees. I have ended up with scraps and bruises. It's all in good fun."
While she'll sometimes compete with a sled, skijoring is where Baum's heart is.
She said it makes her feel more a part of the team and gives her a closer connection with her dogs.
"When I'm running with my one dog Molly, she just knows. I barely have to verbally communicate with her. We've trained together so much. If I need her turn one way, she pretty much knows before I call the command," said Baum.
And make no mistake, the dogs love it to.
"I can't push a rope. I can't make them run. They have to want to do it," she said.
Molly and Mämmi were barking eagerly as soon as they got out of car and as Baum was putting on their harnesses.
But once she got them hooked up, in position, and started the countdown, they were all business.
Competing on the national stage
While Baum grew up with the sport, she didn't start competing until after college.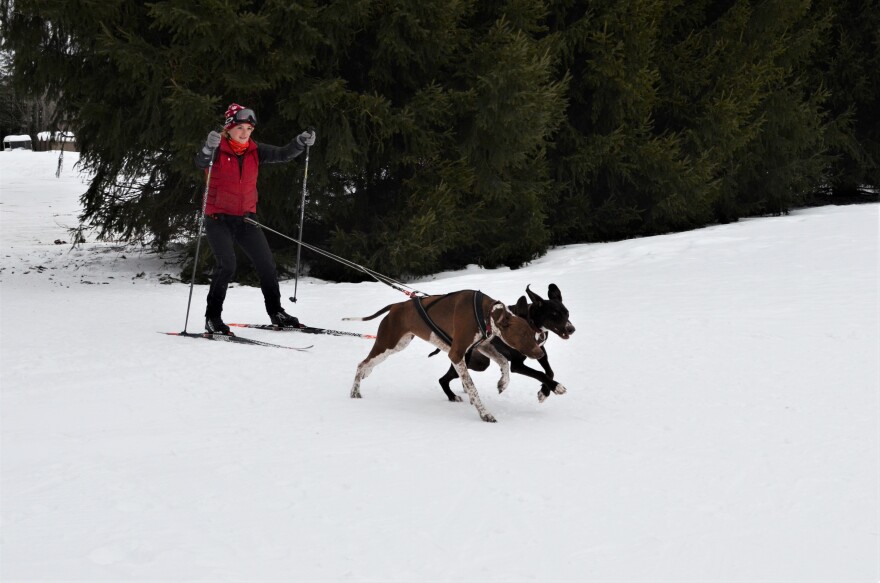 She's already making a name for herself.
Last winter, she won the National Skijoring Champion title.
"It was my first time ever competing at the national championships for skijor. I was really excited that I actually pulled that off," said Baum.
Her skills earned her a spot on the U.S. Sled Dog and Skijoring Team to compete in IFSS World Championships in Sweden.
Unfortunately, between the pandemic and the nightmare travel logistics of trying to fly with her dogs these days, she and her other teammates based in the U.S. won't be competing this year.
Instead, she's looking forward to competing in the national competition and defending her title.
"Most of the people who were going to be competing at world championships will probably be at national championships with me. It will be really fun. We'll be competing against each other," said Baum.
Heal Creek Dog Dash & Winter Festival
Baum is also working to bring the sport to the Rhinelander community.
Rhinelander will be hosting its first dogsled race on the Heal Creek Trails later this month.
The city recently acquired the 416-acre section of land thanks to a donation from longtime Rhinelander physician and cross-country skier Dr. Lee Swank.
The Rhinelander City Council approved a resolution January 10 to approve a quit claim deed that transferred the land to the city, according to the Star Journal.
The idea for sled dog race came from Mayor Chris Frederickson.
Baum is a member of the Wisconsin Trailblazers Sled Dog Club and organizing the event. She says she's been trying to host a race for the last two years.
"The biggest problem I was running into was there were a lot great trail systems, but there wasn't enough parking, for example or places that did have enough parking like Northwood didn't quite have long enough trail," said Baum.
The addition of the Heal Creek property solves that problem.
Grooming is already underway to connect the trails at Northwood Golf Course to those on the new property.
The races will feature one to two dog skijor races and sled dog races up with up to 8 dogs.
There will also be a lot of activities for spectators like snowshoeing, food and beer, and live music.
"We're also going to have sledding on the hill here off the driving range for kids. The finish line is going to be by the driving range where the sledding hill is. So kids can sled down the hill while parents watch the race. It'll just be a lot of fun activities," said Baum.
AARP granted the festivals $1,000 dollars to buy propane heaters to help keep people warm.
"This project fits perfectly with the spirit and intent of the Small Dollar, Big Impact grant program," said AARP Wisconsin Interim State Director Christina FitzPatrick in a statment. "Our goal is to support communities as they make positive changes that inspire long-term progress on livable issues. This proposal hits that nail right on the head."
The Heal Creek Dog Dash & Winter Festival is February 26th and 27th with most of the non-race activities happening Saturday.
In the meantime, Baum just looks forward to getting out on the trails with her dogs as often as she can.
"It's very beautiful the trails, and it's very quiet. I come here and I usually get the place to myself, which I really love. I can just be out there with my dogs and it's like the rest of the world disappears," said Baum.